Standard Sized Personalised Mats
Fantastic coir door mats that are ready made to popular standard sizes. Choose from the following different mat styles:
Braided Edge Coir
For a more traditional look, choose our hand stitched Super Carnatic, braided edge mat. 18mm thick, this mat is both durable and smart while keeping to the traditions of mat making.
Latex Edge Coir
Alternatively if you're looking for something more modern go for our latex edged finish doormat. Similar to the braided edge but slightly thicker at 20mm and finished with a bonded edge of natural latex rather than stitched - perfect for mat wells.
Make a great first impression with Doormats4You!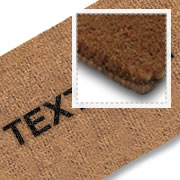 Natural coir matting with traditional hand stitched braided edge in a choice of popular, pre-cut sizes ready for you to personalise with our online tool.
From £11.99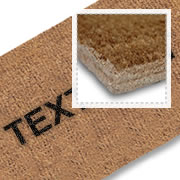 Traditional coir matting pre-sized with a more modern, bonded edge finish in a choice of thicknesses, add your own personalisation as required.
From £10.99