Doormats
We have a superb collection of doormats for you to choose from and to try to make that process easier we have sectioned the various types and styles.
Our ready-made pre-sized doormats range consists of a fantastic selection of doormats made from traditional Coir matting with both stitched and bonded edges. This also includes our fantastic selection of weatherproof, outdoor doormats. Check out our range of washable doormats if you're looking for something which is absorbent, stylish and easy to clean. These include a selection of super-absorbent, cotton fibre washable mats to help keep moisture and dirt at the doorstep and not on your floor! We also offer personalised photo doormats or logo doormats which are all machine washable. These are available to order on our sister site by clicking here.
Our custom doormats section allows you to enter your dimensions so that you can have your mat made into whatever size you require (we've previously created a mat as big as a circus ring!). Choose from different mat thicknesses and backing materials as well as your size. Also, our custom coir mats can be personalised with your choice of wording and motifs. Our made to measure doormat service allows you to customise your mat to meet your needs - from synthetic coir matting cut to size, made to measure traditional handstitched door mats and cut to size PVC backed doormats ... there is something for everyone!
Make a great first impression with Doormats4You!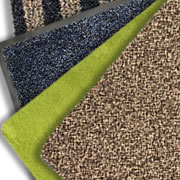 For both indoor & outdoor use includes printed mats, faux coir door mats & fully washable rubber backed cotton mats.
View Mats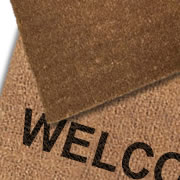 Traditional coir matting in both standard & made-to-measure sizes with personalisation & printing available too!
View Mats